Local History Notes
This series of leaflets and booklets are printed in-house. They provide an opportunity to publish memories of local residents, and other source material, at low cost.
We would particularly welcome reminiscences of local commercial and industrial activities.
We would also welcome more transcripts of local source material, and also offers from people willing to check draft transcripts.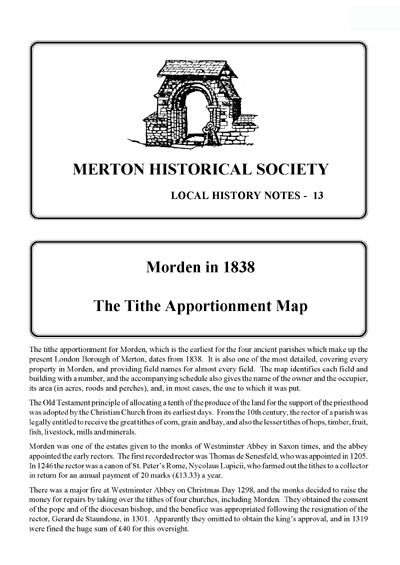 The tithe apportionment for Morden, which is the earliest for the four ancient parishes which make up the present London Borough of Merton, dates from 1838. It is also one of the most detailed, covering every property in Morden, and providing field names for almost every field. The map identifies each field and building with a number, and the accompanying schedule also gives the name of the owner and the occupier, its area (in acres, roods and perches), and, in most cases, the use to which it was put.