Local History Notes
This series of leaflets and booklets are printed in-house. They provide an opportunity to publish memories by local residents, and other source material, at low cost. We are currently making the older and slimmer reminiscences available as free downloads, though printed copies can still be purchased.
We would particularly welcome reminiscences of local commercial and industrial activities.
We would also welcome more transcripts of local source material, and also offers from people willing to check draft transcripts.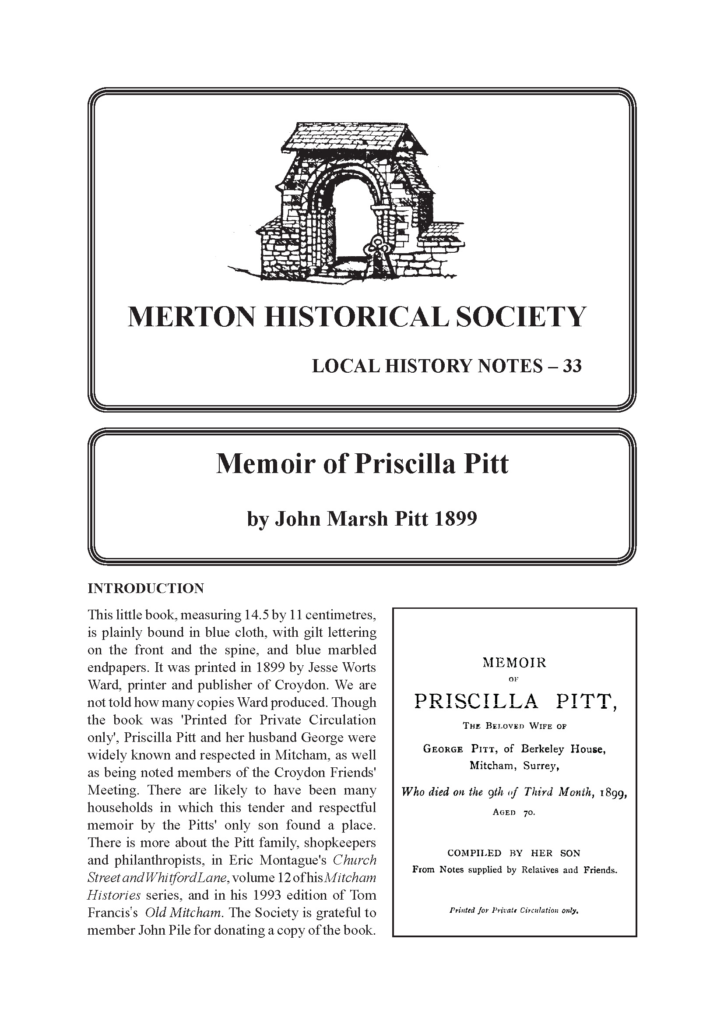 John Marsh Pitt produced this Memoir to his mother shortly after her death in 1899, and the Society is grateful to member John Pile for donating a copy of the book for reproduction. 'This little book, measuring 14.5 by 11 centimetres, is plainly bound in blue cloth, with gilt lettering on the front and the spine, and blue marbled endpapers. It was printed in 1899 by Jesse Worts Ward, printer and publisher of Croydon. We are not told how many copies Ward produced. Though the book was 'Printed for Private Circulation only', Priscilla Pitt and her husband George were widely known and respected in Mitcham, as well as being noted members of the Croydon Friends' Meeting. There are likely to have been many households in which this tender and respectful memoir by the Pitts' only son found a place. There is more about the Pitt family, shopkeepers and philanthropists, in Eric Montague's Mitcham Histories 12 Church Street and Whitford Lane, and in his 1993 edition of Tom Francis's Old Mitcham'.