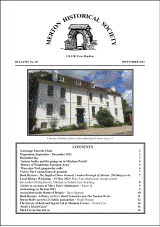 Our Bulletin is published at the beginning of March, June, September and December.
As well as reports on meetings, visits and workshops, it includes news of current events, book reviews, and articles relating to the history of our area.
The Editor would be pleased to receive offers of suitable material, which should be sent via The Secretary or emailed to editor@mertonhistoricalsociety.org.uk. Notes on our Bulletin House Style can be downloaded here.
Click the year buttons below to browse and download previous Bulletins, or enter a keyword into the Search option at top right.
The full text of all our Bulletins from 1995 is fully searchable.
However, personal information and material subject to copyright have been removed. Paper copies of individual articles including illustrations are available from the Publications Secretary, 57 Templecombe Way, Morden, Surrey SM4 4JF on receipt of SAE.
Bulletins from the last five years are only available to members and are password protected. Email mhs@mertonhistoricalsociety.org.uk for a password.

March 2023 – Bulletin 225
Remembering: a suffragette, an athlete, an author – Dave Haunton
Stanton Redcroft and the Copper Mill site – Norma Cox
Joseph Bazalgette's country retreats – Peter Hopkins
Abraham Goldsmid's house at Morden – Peter Hopkins
Death of Mr Glass – Mick Taylor
and much more
June 2023 – Bulletin 226
Some 'Memories of Mitcham' by Benjamin Slater – Rosemary Turner
Cannon Hill Common Pavilion
Dorset Hall's Secrets (1): Militant Suffragettes – Hugh Morgan
The New Merton Board Mills Site – Norma Cox
'Merton Abbey' Photograph Album –
and much more
September 2023 – Bulletin 227
A letter to a trustee of Mary Tate's Almshouses – Karen Ip
An incident in the Battle of Britain – Dave Haunton
Dorset Hall's Secrets (2): fabric and garden – Hugh Morgan
The factory of Reid and Sigrist Ltd at Shannon Corner – Norma Cox
and much more

March 2022 – Bulletin 221
Chairman's Report November 2021 – Keith Penny
Merton Priory's Gatehouse and Guesthouse: Part 3 – Katie Hawks
Three Morden factories: BOC, Agfa and Dean's Rag Books – Norma Cox
Do buildings ever lie about their age? [Hall Place Mitcham] – Tony Scott
Short talks at the November meeting: a mysterious building in Morden; title deeds; a fine collection of elderly photos of Mitcham Fair – Peter Hopkins, Keith Penny & Tony Scott
and much more
June 2022 – Bulletin 222
Long Thornton, 1926-1939: 'One of the most charming residential districts' – Keith Penny
William Morris writes of the 'Beautiful Wandle'
A portrait of Nelson with his chelengk – Dave Haunton
Coxeter and Son Ltd, anaesthetic apparatus manufacturer – Norma Cox
These we (should not) have lost – David Luff
West Barnes: making sense of a Merton ward's identity crisis – Edward Dutton
Feedback on the Hadfields – Christine Pittman & Adrian Gault
May Gibbs and Merton – Christine Pittman
and much more
September 2022 – Bulletin 223
Morden in the Forties and Fifties – Marian Heath
The view from 'The Woodman's Bridge – Norma Cox
The Woodman figure – Dave Haunton
The West Barnesuda Triangle – Elaine McCormack
Claes Oldenburg's London Knees – Clive Whichelow and Peter Hadfield
and much more
December 2022 – Bulletin 224
The Obelisk in the grounds of The Canons, Mitcham – Tony Scott
The British Newspaper Archive – Peter Hopkins
Shock and Awe in Colliers Wood – Christine Pittman
Two factories and the High Path estate – Norma Cox
and much more

March 2021 – Bulletin 217
Coralie Glyn, a feminist in Merton – Clive Whichelow
The east window at St Lawrence church, Morden – Peter Hopkins
Bert's refreshment bar – Robert Bradbury
The Young Accumulator Company of New Malden – Norma Cox
House numbering in Merton Park – David Haunton
and much more
June 2021 – Bulletin 218
Coralie Glyn's mythical descendant – Clive Whichelow
Varnish, paint, shingle: the Hadfield's firms (part 1) – Hadfield family
The Chilmans of Merton – Peter Maggs
The hutted camp on Bushey Road – Mike Strange
Surrey church bell ringers serving in the First World War – David Underdown
and much more
September 2021 – Bulletin 219
Merton Priory's Gatehouse and Guesthouse: Part 1 – Katie Hawks
Varnish, paint, shingle: the Hadfield's firms (part 2) – Hadfield family
Hugh Hadfield, Surrey Cricketer
The political career of Lucy Norman – Michael Norman-Smith
The Trafalgar pub – Clive Whichelow
The art deco factory in Raynes Park – Norma Cox
and much more
December 2021 – Bulletin 220
Merton Priory – Chapter House developments
Merton Priory's Gatehouse and Guesthouse: Part 2 – Katie Hawks
A Roman well in Mitcham – Christine Pittman & David Bird
The funeral of Mr. Fenton – Mick Taylor
Some memories of 1951 – John Pile, Eric Shaw & Rosemary Turner
Two Mr Pooleys and the car in the stained glass window – Norma Cox
and much more

March 2020 – Bulletin 213
King John's travels before Runnymede – David Haunton
Haydon's Road: (1) History of the chemist's shops – Norma Cox
Haydon's Road: (2) The shops: change over 128 years – Norma Cox
Heath Robinson Museum – Chris Abbott
Shannon Corner flooding 1981 (or was it 1982?) – Mick Taylor & Norma Cox
London Archaeological Fieldwork Summary 2018
and much more
June 2020 – Bulletin 214
Message from the Chairman – Keith Penny
The Shannon Corner flooding 1981 – Mick Taylor
Tew many Roberts: just who was the first prior of Merton? – Katie Hawks
Memories of VE Day – Albert A J Smith
Where are those stall risers? – David Haunton
Ravensbury Manor plaque
Richard Lines 1929–2020
and much more
September 2020 – Bulletin 215
Variations on the post box – Mick Taylor & Rosemary Turner
Locating telephone kiosks – Mick Taylor
Isaac Wilson, Mitcham philanthropist – Tony Scott
The mystery of the missing container wagons – Bruce Robertson
Haunton's horse hunt II: Boniface and the bishops – Katie Hawks
Carters Tested Seeds and the Woolworths connection – Norma Cox
and much more
September 2020 – Bulletin 216
Farewell to Finch & Co – Charles Toase
The opening of John Innes Park 1909 – Jennifer Bromfield
RG Jones Recording Studios – Clive Whichelow
War Savings Week 1942 at South Merton Station – Jennifer Bromfield
Last journey of a Mitcham-born taxidermist – Rosemary Turner and David Haunton
and much more
March 2019 – Bulletin 209
Annual Report for 2017-2018 – Keith Penny
Some thoughts on John of Tynemouth – Katie Hawks
Archaeology in Merton 2017
Recent Books
Hawes Bros Department Store in Morden – Norma Cox
and much more
June 2019 – Bulletin 210
Jane Atterbury 1650–1685: At Peace in Bedlam – Robert Atteberry
My Life in Mitcham 1939–1966 part 1 – Michael Pollock
Recent Books
The Berkeley Grill – David Haunton
and much more
September 2019 – Bulletin 211
Windsor Floors (the continuing story) – Mick Taylor
My Life in Mitcham 1939–1966 part 2 – Michael Pollock
Curving Boundaries in Morden and Merton – Peter Hopkins
Bushey Road Camp – David Haunton
and much more
December 2019 – Bulletin 212
A drug store in Merton in the early twentieth century – Norma Cox
The Wandle in Literature (9) Carol Rumens – Judy Goodman
Beating the bounds in 2019 – Rosemary Turner
From our postbag – John W Brown
The post-war camp on Prince George's Playing Fields – David Haunton
and much more

March 2018 – Bulletin 205
A Much-Moving Mitcham Lady – Winnie McAllan
Nelson's Patent Sideboard and Dining table – Peter Hopkins
One Thing Leads to Another: The Berkeley Teetotal Society – Rosemary Turner
George Blay, The Raynes Park Housebuilder – Norma Cox
and much more
June 2018 – Bulletin 206
Augustus William Louis Schermuly – Rosemary Turner
Sunday School at Holy Cross – Hilary Nethersole
1918 and After: The rather longer fight for the women's vote and an equal franchise – Melinda Haunton
Photographs of the George Inn, Morden – Bill Rudd
and much more
September 2018 – Bulletin 207
Betty Beal, Some Documents – David Haunton
Windsor Floors Ltd – Neil Hepple
The East Window at St Lawrence Church, Morden – Peter Hopkins
and much more
December 2018 – Bulletin 208
Mitcham County Grammar School for Girls – Jane Smith (née Stark)
More on the Berkeley 100 – Rosemary Turner
Windsor Floors Co (continued) – Tony Scott
Peace Souvenir and programme of Merton festivities, 1919 – David Haunton
Fields Unsown: Where are they now? – Attic Theatre Company
More 'bits and pieces' – Hilary Nethersole
and much more
March 2017 – Bulletin 201
Chairman's Report for 2015–2016
John Innes Marches On
Colonel Stuart Archer: from an Obituary in The Times
Archaeological Summary for Merton 2015
Morden's Masons/Sculptors: The Crutcher Family – Peter Hopkins
Something for FROG fans – Peter Cousins & David Haunton
'Emma Hamilton: Seduction and Celebrity' – Melinda Haunton
and much more
June 2017 – Bulletin 202
Four More Pharmacies in the London Borough of Merton – Norma Cox
The Two Wives of Sir Gregory Lovell – Peter Hopkins
More Memories of Eric Montague – Charles Toase & Pat Robins
and much more
September 2017 – Bulletin 203
Monumental Sculpture attributed to the Crutcher Family – Katharina Mayer Haunton
Incident at Merton Park Primary School – John 'Sandy' Catanach
Commemorative Plantings (continued) – David Haunton
and much more
December 2017 – Bulletin 204
Wartime Childhood in SW19 – John 'Sandy' Catanach
A Task Unfulfilled: Fry's Metals Ltd (Tandem works) 1972-1997 – Eric Shaw
The Berkeley Teetotal Society First 100 – Rosemary Turner
and much more
March 2016 – Bulletin 197
Five Merton Pharmacies – Norma Cox
Who was George Parker Bidder? – Janet Morris
Ealdorman Ælfheah – Judith Goodman
and much more
June 2016 – Bulletin 198
A Nelson Descendant – Anna Bullock
For your Bookshelf: Windows onto the Poor Law, All Change on Mitcham Common
Memories of The Canons – Irene Burroughs
John Mantell, vicar of Morden, curate of Merton, but NOT canon of Merton priory! – Peter Hopkins
34-40 Morden Road, Merton – Peter Hopkins
and much more
September 2016 – Bulletin 199
Sindy and her Family Tree – David Luff
William Arthurbury, Brownist and Seditious Publisher – Robert Atteberry
George C Wood, Master Builder of Merton – Paul Featherstone
and much more
December 2016 – Bulletin 200
Liberty Yule-tide Gifts 1929-1930 – David Haunton
A List of Commemorative Plantings – various contributors
'My Grandfather was Nelson's Garden Boy' – Gill Humphries
WW2 Private Air-Raid Shelters – David Haunton
and much more
March 2015 – Bulletin 193
Bill Rudd – an appreciation
Lady Hanworth, FSA 1918–2014
A Note on Harry Bush, Merton Artist – Judith Goodman
Direct Mineral Water Supply Lorry – David Haunton
'The Smith a Mighty Man is He' – Judith Goodman
Another View on Mitcham and The Great War – Mavis Priestley
and much more
June 2015 – Bulletin 194
A Letter from World War 1 – Peter Hopkins
Correction: Enzeli Expedition – David Haunton
Anthony Toto, Tudor Artist and Lessee of the Manor of Ravensbury (1) – Peter Hopkins
and much more
September 2015 – Bulletin 195
Ode to the River Wandle – Rosemary Turner
Stability after Change? The London Borough of Merton is 50 years old – Tony Scott & David Haunton
Death, Disease and Damnation – Rosemary Turner
The Society Store – Keith Penny
Anthony Toto, Tudor Artist and Lessee of the Manor of Ravensbury (2) – Peter Hopkins
and much more
December 2015 – Bulletin 196
'England's Immigrants – Aliens in Southwark and Surrey 1330–1350' – Andrea Ruddick
The Locket Family, Coal and Mitcham Brewery – Ruth Sear
The George Inn and the 'Manor House' Residential Home – Peter Hopkins
A Royal Opera House Dance Ticket – Peter Brunton
Memories of Two Mitcham Churches – June Smith
Growing Up in Colliers Wood in the 1920s and '30s – Winifred McAllan
and much more
March 2014 – Bulletin 189
Book reviews: Upper Mitcham and Western Road; The Church of Blue Columns
Robertson's Pickle & Sauce Works Ltd (concluded) – Bruce Robertson
Eric Montague and the Mitcham Histories – David Haunton
and much more
June 2014 – Bulletin 190
The British Rototherm Co Ltd – a Life in their Times – John Sargeant
Down Lonesome Way – E Brinsmead Gough
Notes on 'Down Lonesome Way' – Keith Penny
Book Reviews: two books on Worcester Park by David Rymill
and much more
September 2014 – Bulletin 191
Mitcham Grove and the Myers family – Peter Hopkins
The Priory Wall – David Luff
Petty Sessions Minutes for Brixton Hundred, Western Division – Sheila Gallagher
Mitcham Brewery – Rosemary Turner
'Interesting Times' in China 1923-1950 – David Haunton
and much more
December 2014 – Bulletin 192
Some Thoughts on Mitcham and the Great War – Tony Scott
Merton's Medieval Rebels – Peter Hopkins
More about Lonely Lonesome and 'Blake's Follies' – John W Brown
and much more
March 2013 – Bulletin 185
A Mitcham Home Guard Memorial – Tony Scott
Dennis Turner 1932-2013
A Glimpse of Morden Hall Boarding School for Young Gentlemen – Judith Goodman
Swan Song – Irene Bain
Three Railway Accidents at Raynes Park – Geoffrey Wilson
James Hine Miller – Anne Galpin
Some Hanging Matters – Judith Goodman
and much more
June 2013 – Bulletin 186
Mariqita Moberly, Artist, of Mitcham
'The Most Interesting Political Fight of Recent Years' – Keith Penny
A 'Small Token' from Emma Hamilton
Hearts of Oak Benefit Society – Roger Logan
The End of a Chain – Raynes Park 2013 – David Haunton
Garth Lodge – Geoff Cooper
Let's Save the Merton Priory Wall – David Luff
The End of a War – Mitcham 1945 – David Haunton
Memories of 4th East Surrey Boys' Brigade 1933-1938 – Leslie A Leney
and much more
September 2013 – Bulletin 187
Blakesley Remembered – Judith Goodman
Local Church Bells – Whitechapel and Otherwise – David Haunton
Merton, Morden and Wimbledon in 1963 – David Roe
Merton & Morden's AFS Film and its Makers – Eric Wrate and David Haunton
'The Most Interesting Political Fight of Recent Years': Part 2 – Keith Penny
Robertson's Pickle & Sauce Works Ltd – Bruce Robertson
and much more
December 2013 – Bulletin 188
The Origins of Morden Common – Peter Hopkins
Mrs Louisa Boyce at Park Place, Mitcham – Tony Scott
The Ruff Memorial Stone – Adrian Gault
Up Memory Lane! – Irene Bain
Doodlebug Summer – Geoff Cooper
Robertson's Pickle & Sauce Works Ltd (cont.) – Bruce Robertson
A Stitch in Time Saves Nine – David Luff
and much more
March 2012 Bulletin 181
Tower Creameries Commemorative Plaque D Haunton
Builders, Wardens and Pig Clubs S Gallagher
The Coronation of Queen Eleanor P J Hopkins
Child Evacuees of World War II – Part 1: Where did they go? D Haunton
and much more
June 2012 Bulletin 182
That Other Diamond Jubilee J A Goodman
The Nelson Hospital 1912-2012 J A Goodman
A Hero from Mitcham R E Kilsby
Spital/Lodge Farm, Morden R Turner
Child Evacuees of World War II – Part 2: Memories D Haunton
The Old Oako I Bain
and much more
September 2012 Bulletin 183
History is Made in Merton This Summer M Taylor/C Roe
An 'Ancient Relic' and its Future J A Goodman
Some Aspects of the Bulletin's History D Haunton
Merton Park's Level Crossing G Wilson
389-393 London Road, Mitcham C Reid
and much more
December 2012 Bulletin 184
Evidence for the Construction and Development of Grove Mill, Mitcham
G Potter
Newton House, Commonside West, Mitcham R A M Scott/D Haunton
Ravensbury Mills in 1910 R Turner
'One of Merton's Benefactors' J A Goodman
and much more
March 2011 Bulletin 177
Messages over Merton G Wilson
In Search of a Lacemaker R Turner
V-1s on Merton and Morden : the details D Haunton
and much more
June 2011 Bulletin 178
The Morden Tavern: a pub for Heroes D L Ingram
A Red Herring on the Antiques Roadshow D Haunton
The East Window of St Lawrence's Church, Morden P J Hopkins
Memories of Exciting Times K Gibbons/D Haunton
and much more
September 2011 Bulletin 179
London's Rivers and Sewers R A M Scott
Memories of Exciting Times: part 2 K Gibbons/D Haunton
Manorial Records relating to Medieval Morden P J Hopkins
Bath Commemorates Merton's Leading Suffragette G Wilson
and much more
December 2011 Bulletin 180
Making a Meal of a Really Quite Simple Question (1943) D Haunton
Transports of Delight G Wilson
Merton High Street and Nelson's Merton Place C Maidment
The Domesday Settlement in Morden P J Hopkins
Merton and Morden in 1951 – the year of the Festival of Britain D Roe
and much more
March 2010 Bulletin 173
V-1s on Mitcham. Part 1: Memories D Haunton
Merton's First Commuters G Wilson
The Priory Wall D Luff
and much more
June 2010 Bulletin 174
Littler's Cottages J A Goodman
V-1s on Mitcham. Part 2: The Details D Haunton
and much more
September 2010 Bulletin 175
Lionel Edwin Green P J Hopkins
Gilbert of Merton L E Green
1910-2010: A Centenary: from the John Innes Horticultural Institution to the John Innes Centre J A Goodman
The Merton Abbey Volunteers J A Goodman
The Raynes Park station arch G Wilson
One Night in the Blitz: Mitcham 16/17 April 1941 D Haunton
Another Mitcham Doodlebug M Priestly
and much more
December 2010 Bulletin 176
Amy Shuard – Memories L Trodd
Merton Park Remembrance Society D Haunton
Raynes Park (Railway) Skew Arch L E Green
The Wandle in Literature 7. John Betjeman J A Goodman
Collective Rights and Enclosures in 13th-century England L B Mir/J C L Rasch
and much more
March 2009 Bulletin 169
A Cricket Souvenir C Maidment
Jean Reville: Merton's Racing Motorist – Part 1 D Haunton
The 'Highgate' of Merton Priory C Maidment
The Wandle in Literature 6. John Ruskin J A Goodman
and much more
June 2009 Bulletin 170
What's the Connection? (Mitcham photos) P J Hopkins
Morden Parks Sales Announcement C Toase, J A Goodman
Jean Reville – Part 2 D Haunton
Wandle Trout Spotted J A Goodman
The Search for Nelson's Staircase R Jewers
and much more
September 2009 Bulletin 171
A Discovery at Godalming (Gertrude Jekyll) J A Goodman
Monumental Sculpture L E Green
Jean Reville – Part 3 D Haunton
Morden Women's Institute – celebrating 90 years B Oliver
The Wall of Merton Priory C Maidment
The 'Grasping' Merton Priory P J Hopkins
and much more
December 2009 Bulletin 172
Growtes – the home of a rich man in 1554 D Haunton
The de Chastelains at old Church House J A Goodman
The (Society's) Photo Project D Roe
and much more
March 2008 Bulletin 165
A Mitcham Tragedy J A Goodman
The First Bombs on Merton Part 1: The Raiders D Haunton
The Wandle in Literature 5. Harry Graham J A Goodman
and much more
June 2008 Bulletin 166
The First Raid on Merton Part 2 Where the Bombs Fell D Haunton
Musings on Merton Water-Names D Haunton
A Tudor 'Plott' in Morden C Maidment
Richard James Wyatt: 'Accomplished Sculptor …' J A Goodman
and much more
September 2008 Bulletin 167
The First Raid on Merton Part 3 On the Ground D Haunton
The Wimbledon and Sutton Railway G Wilson
Some Early Prints by Vincent Lines K Mayer Haunton
and much more
December 2008 Bulletin 168
The First Raid on Merton: Amendments D Haunton
Vincent Lines: a life in art D Haunton
Miss C E M (Maud) Gummow MBE D Roe
Another Air-Raid L Green
and much more
March 2007 Bulletin 161
Some notes on Spital and the Hoares R Turner
The Church at Cahagnes, Normany L Green
The Mizens of Mitcham R A M Scott
A Georgian Schoolboy in Mitcham J A Goodman
Trams in Merton – a Centenary G Wilson
and much more
June 2007 Bulletin 162
The Mystery Buildings [at Merton Abbey] W J Rudd
Merton, Morden and Mitcham in 1947 D Roe
Landholding in Morden around the year 1200 P J Hopkins
Faramus of Boulogne L Green
Fifide and Shelwood L Green
and much more
September 2007 Bulletin 163
Lines Bros' Wartime Pilotless Aircraft D Haunton
Merton Abbey Mills: heritage site or commercial tat? D Luff
Searchlight Cottages W J Rudd
Probate Inventories for Local Residents P J Hopkins
Merton Priory and the 'Curse': is it about to strike again? D Luff
and much more
December 2007 Bulletin 164
Goodbye to Lampert's J A Goodman
Madder at Mitcham J A Goodman
St Martin's Church, Lower Morden P J Hopkins
Flooding in 1903 C Maidment
What did Tri-Ang do in the War, Mummy? D Haunton
and much more
March 2006 Bulletin 157
Mitcham and some Recusant Catholic Families J Pile
200 Years ago – Merton Place after Nelson J A Goodman
Kate Vaughan – an Ornament to the Musical Stage J A Goodman
Cricket at Streatham – the early days J W Brown
From Monty's Postbag E N Montague
Wandle in Literature 4. Rudyard Kipling J A Goodman
and much more
June 2006 Bulletin 158
Sir Frank Brangwyn RA J A Goodman
Three Kings Pond R A M Scott
Local Cases at Surrey Assizes … (1603-1625) P J Hopkins
Morden's Post Office W J Rudd
John Donne – of Mitcham J A Goodman
SS Peter & Paul Catholic church, Mitcham R A M Scott
and much more
September 2006 Bulletin 159
Surrey Probate Inventories 1558-1603 P J Hopkins
Mitcham station and its rear extension M Watts
'Little Hobbs' [Sir Joseph John Talbot Hobbs] J A Goodman
and much more
December 2006 Bulletin 160
Morden's other post offices W J Rudd
The Master Mason comes to Merton L Green
The 1851 Religious Census: Surrey R Ninnis
Movement of Livestock between Morden and other manors of Westminster Abbey P J Hopkins
and much more
March 2005 – Bulletin 153
The Smith Tomb, St Mary's Merton Park – D Muirhead
Return to 's-Hertogenbosch, Oct 2004 – T Kelley
The Knights Templar – L Green
Young & Co, Merton Abbey, in 1950s – J Pile
The Archbishopric of York 1139-1154 – L Green
Wandle in Literature: Leigh Hunt – J A Goodman
June 2005 – Bulletin 154
Measure for Measure – L Green
200 Years Ago (Nelson): June-Sept 1805 – J A Goodman
Times Winged Chariot: Evans' cart – W J Rudd
A Road 'very farr out of repair' – J A Goodman
The Lovells of Merton Abbey – J A Goodman
September 2005 – Bulletin 155
Recusancy in Mitcham – J A Goodman & J Pile
Trafalgar 200 – J A Goodman
200 Years Ago (Nelson) Sept-Dec 1805 – J A Goodman
A Note on Nelson's Gardener – J A Goodman
'Hatfeild's Park: the untold story' – S Harris
Mitcham Cricket: an anthology – J A Goodman
December 2005 – Bulletin 156
Trafalgar 200 in the Borough of Merton – J A Goodman
200 Years Ago and Afterwards – J A Goodman
Our War Memorials – JAG, RAMS & WJR
Newton House, Commonside West – E N Montague
Foundation Date of Mitcham Cricket 1685? – R Packham
March 2004 – Bulletin 149
Wimbledon's Lord Mayor of London – E Lilley
Charles Greaves of Merton Place & his Family – J Latham
John Mantell Canon of Merton Priory – P J Hopkins
James Lackington – J A Goodman
Wandle in Literature: Davy's Salmonia – J A Goodman
My Hat! The Medieval Titfer – L E Green
Jim Hadland of Manor Farm, Mitcham – J Goodson
June 2004 – Bulletin 150
The Grove Mill and Crown Mill site, Mitcham – G Potter
Access to the Priory – C Maidment
The site of the First Abbey Mill – English Heritage
Edward II and Isabella – L Green
Mitcham's Cholera Outbreak in 1866 – E N Montague
Morris & Co Tapestries at Westminster Abbey – R Turner
September 2004 – Bulletin 151
The Admiral's Sicilian Patch – L Cowell
The First Wandle Valley Festival – W J Rudd
John William Godward (1861-1922) – D Bazley
The Centenary of John Innes (1829-1904) – J A Goodman
Tooting Bec – L Green
December 2004 – Bulletin 152
Photographic Record Project – D Roe
The Oxford Movement in Mitcham – R A M Scott
A War-time Childhood in Raynes Park – I Lawrence
William Nicholson – J A Goodman & R Ninnis
Wandle in Literature: Camden, Drayton, Pope – J A Goodman
A Conundrum from the Past – L Green
Rhodes-Moorhouse and Whalley – J A Goodman
A writing family of Cannon Hill (Edna O'Brien) – J A Goodman
March 2003 – Bulletin 145
'A Philological Discipline' – J Pile & E N Montague
Town and City Wards (2) – D Fleming
Henry III and Merton Priory 1216-72 (2) – L E Green
Mitcham Windmill Base and Timbers – R A M Scott
Time Team Comes to Merton – L E Green
A Job to Dye For – W J Rudd
June 2003 – Bulletin 146
Missing Piece of the Puzzle (Abbey Lodge) – P J Hopkins
Samuel John Tracy – J A Goodman
'This Sickly Gaol' (Southwark) – J A Goodman
54-56 Church Road, Mitcham Excavations – R A M Scott
Beating the Bounds of Morden 1882 – W J Rudd
Merton Priory: What does it mean? – L E Green
The Evidence of Place-names: Discussion – various
September 2003 – Bulletin 147
G A Storey RA at Morden Hall Academy – J A Goodman
A Treasure Map of Merton Priory? – P J Hopkins
Walter de Merton, 'The Clerk of Basingstoke' – R Ninnis
Merton Priory: 13th-Century Church Disputes – L E Green
Robert de Bethune, Bishop of Hereford – L E Green
The Excavation of Bennett's Mill 2002 – D Luff
December 2003 – Bulletin 148
Morden Hall before Morden Hall! – P J Hopkins
A Personal History of Morden Hall Park – M Healey
The Destruction of a Priory – L E Green
Eagle House, Mitcham – R A M Scott
March 2002 – Bulletin 141
John Arbuthnot of Mitcham – E N Montague
The Mitcham Virgate: comment – E N Montague
In the Midst of Life [Merton Priory 1344-56] – L E Green
The Wandle Navigation – E N Montague
Welch's Table-Cloth Printing Works – E N Montague
The Catherine Gladstone Home, Morden – J A Goodman
June 2002 – Bulletin 142
J W Bazalgette in Morden – W J Rudd
Sgt P K Walley – J A Goodman
Roger of Salisbury and the Augustinians – L E Green
John Arbuthnot: more facts – J Pile & J A Goodman
The Welch Family – J Welch
The Weller Family of Mitcham – J Herbert
Medieval Field Names in Morden – P J Hopkins
September 2002 – Bulletin 143
Chestnut Cottage, Mitcham – E N Montague
The Birth of a Publication – W J Rudd
The Two Wives of Sir Richard Hotham – P J Hopkins
The Evidence of Place-names (1) – E N Montague
The North Mitcham Mission District – E N Montague
December 2002 – Bulletin 144
The Evidence of Place-names (2) – E N Montague
The Pishiobury Ha-ha – W J Rudd
Town and City Wards (1) – D Fleming
Henry III and Merton Priory 1216-72 (1) – L E Green
March 2001 – Bulletin 137
The Swan Inn – E N Montague
Mitcham in AD 1000 – E N Montague
The Mitcham Home Guard Memorial Plaque – R Turner
Saxon Merton, or 'Battles Long Ago' – J Pile
Merton Priory: Some 13th Century Episodes – L E Green
The Artists of Queensland Avenue – J A Goodman
June 2001 – Bulletin 138
Recent Work on the Site of Merton Priory – P J Hopkins
The Industrial School in Mitcham – R A M Scott
Ralph de Cahaigns & the Keynes' Beneficence – L E Green
John Donne in Mitcham – E N Montague
Abraham Goldsmid of Morden Lodge – J A Goodman
The Statute of Merton – L E Green
September 2001 – Bulletin 139
The Huguenot Heritage in Mitcham – E N Montague
St Olave, Mitcham – R Ninnis
Two Mitcham Mysteries – E N Montague
December 2001 – Bulletin 140
The Pommeroy Beneficence – L E Green
The Mitcham Virgate – J Pile
Rev Henry J Wharton, Vicar of Mitcham – E N Montague
The Story of No.70 Christchurch Road – E N Montague
A View of London Road Morden c.1760 – P J Hopkins
March 2000 – Bulletin 133
Chronology of Merton Priory buildings – L E Green
Thomas Vernon of Mitcham (1781-1846) – E N Montague
George Frederick Hall (1811-93) – R Reid
Mitcham Vicarage – E N Montague
June 2000 – Bulletin 134
Ann Hallam, actress (1696-1740) – R Ninnis
The Athletic Fame of Mitcham – R A M Scott
Seeking Sanctuary at Merton – L E Green
Before the computer sent the bills – R A M Scott
The impact of the Scandinavian raids – E N Montague
September 2000 – Bulletin 135
Athletic Fame of Mitcham: Dorothy Tyler – R Kilsby
Place names as surnames – L E Green
It's good to talk – L E Green
Saxon Merton – J Pile
The Mauduit lords of Mitcham – P J Hopkins
December 2000 – Bulletin 136
Fifty years of Merton Historical Society – L E Green
The Scandinavian impact on Surrey – E N Montague
The Odways or Otways of Mitcham – E N Montague
Christina Steevens – J A Goodman
March 1999 – Bulletin 129
Adrian IV – L E Green
The Rudd monument in Morden churchyard – W J Rudd
Francis Merritt of Mitcham, victualler – E N Montague
Policing Old Mitcham – B Brown
Flt Lt R S Cumming – R Potter
'The Kennels' Lower Morden – P J Hopkins
A Peninsular War veteran – E N Montague
June 1999 – Bulletin 130
Monastic glass of Merton – L E Green
Flitwick Cottage, Morden Common – J Pile
Copyholds on Morden Common – P J Hopkins
September 1999 – Bulletin 131
The man who loved Irises: W R Dykes – J A Goodman
Local Landlubbers – L E Green
Sir Ambrose Crowley (1658-1713) – E N Montague
Hamnett Pinhey & Rose Cottage Wimbledon – B S Elliott
December 1999 – Bulletin 132
Morden, Novia Scotia – E N Montague
Taunton Priory, daughter house of Merton – L E Green
Stane Street in Greater London – C E Sole
William De Morgan at Colliers Wood – J A Goodman
Wyevale Garden Centre, Lower Morden – P J Hopkins
March 1998 – Bulletin 125
Admiral Isaac Smith – J A Goodman
The Lawn, 138 Kingston Road Merton – J A Goodman
May Day revels in old Mitcham – E N Montague
George Hait? of Mitcham – J A Goodman
The Locks of Merton: IV – L E Green
June 1998 – Bulletin 126
Looking at Tramlink – D Luff
Calwich Priory, Staffordshire – L E Green
Dunkirk 1940 – R A M Scott
An 1836 murder in Merton – J A Goodman
The archives of St Mary's Merton – L Cowell
September 1998 – Bulletin 127
A Merton murder story – J Pile
Merton Copper Mills – P McGow
To Runnymede via Merton – L E Green
Richard Simpson, Vicar of Mitcham 1844-6 – E N Montague
'In Pursuit of Spring': Edward Thomas – J A Goodman
Some Merton Field Names – J A Goodman
Memories of Wandle Road Morden 1920s – M Vandervlies
December 1998 – Bulletin 128
Richard Simpson, Vicar of Mitcham 1844-46 – R A M Scott
Buildings at risk in Merton – R A M Scott
Abbeys and or Priories – L E Green
Blake's Folly, Long Thornton, Mitcham – E N Montague
March 1997 – Bulletin 121
The Lock Family at Merton: II – L E Green
The Blacklands – E N Montague
June 1997 – Bulletin 122
John F Renshaw & Co. Ltd of Mitcham – E N Montague
'A refrain of dear long ago' – J A Goodman
George Warrington Steevens – J A Goodman
September 1997 – Bulletin 123
Mitcham becomes smaller – E N Montague
The Lock Family of Merton: III – L E Green
December 1997 – Bulletin 124
Trains to Trams – D Luff
Esther Maria Cranmer's Recipe Book – E N Montague
Joseph Chapman Retter – B Webb
Bunce's Ditch – E N Montague
Admiral Isaac Smith of Abbey Gatehouse – E N Montague
March 1996 – Bulletin 117
Morden Park House: an inventory of 1867 – J A Goodman
Morris & Co. stained glass in Australia – E N Montague
White Cottage, Morden Road Mitcham – E N Montague
June 1996 – Bulletin 118
Mitcham, South Australia – E N Montague
The Coronation of Queen Eleanor – P J Hopkins
Copper Milling in Mitcham – E N Montague
Merton Hockey Club – R A M Scott
September 1996 – Bulletin 119
A 'Melancholy Occurrence' at Morden – W J Rudd
An aspect of New Wimbledon – C E Sole
St Lawrence Church Morden – W J Rudd
The Lock Family at Merton: I – L E Green
December 1996 – Bulletin 120
The Unknown Warrior – R A M Scott
National Railway Museum, New Delhi – P & R Kilsby
March 1995 – Bulletin 113
Coles Shop, Liberty's – W J Rudd
Our First Local History Workshop – E N Montague
The 'Hay Furlongs', Western Road, Mitcham – E N Montague
The Sewer Press!! (Morden extracts from the 16th century Minutes of the Surrey and Kent Sewer Commission) – W J Rudd
A Mitcham Man: Ben Slater – M Ledgerton
June 1995 – Bulletin 114
Stane Street in Historic Surrey – C E Sole
September 1995 – Bulletin 115
The Wandle Industrial Museum – P D Harris
Lord Monson's Schooldays – E N Montague
December 1995 – Bulletin 116
Local Archaeology: Morden Lodge and Morden Hall – W J Rudd
Oseney Abbey,a Sister House to Merton Priory – R A M Scott