Studies in Merton History
This series of A4 booklets is an ideal format for the publication of studies undertaken as part of an academic course, as well as non-academic in-depth studies.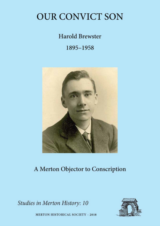 In March and April 1916 Harold Brewster, a surveyor's assistant employed by Merton and Morden Council, argued his case in front of two tribunals that no earthly court had a right to come between a man and his conscience. His conscientious objection was to the undertaking of all forms of military service. Resisting conscription exposed him to the hostility of the majority of the population and to the penalties, short of death, that military and civil rule could impose.
In this study, Keith Penny traces the full range of the penalties that young Harold Brewster endured in the name of conscience.