JUSTICE TO MEN AND COUNTRY: The Mitcham Military Tribunal, 1916–1918
Studies in Merton History 8: by Keith Penny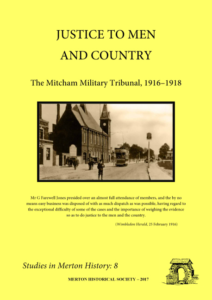 In this study Keith Penny describes how a volunteer tribunal of local men dealt with the hundreds of appeals against conscription that were reported in the local newspapers of the time. Individual cases are discussed and set in the context of national legislation and local business.
In his introduction, Keith explains 'I first came across military tribunals in 1971 when reading Goodbye to All That. A J P Taylor's comment that 'the tribunals were composed of the elderly and retired, unsympathetic to all young men' came as no surprise. Thus, when I came across local newspaper reports of the tribunals in Mitcham, I expected my prejudices to be confirmed, but they were not.'
This booklet is a companion volume to Keith's 263-page online resource CONSCRIPTION IN MITCHAM 1916–1918: Cases heard by the Mitcham Military Tribunal and Cases heard by the Surrey and Croydon Appeals Tribunal, which provides fully-searchable transcripts of these newspaper reports, together with introductory material.