Excavation of a Romano-British site at Short Batsworth, Mitcham 1966-68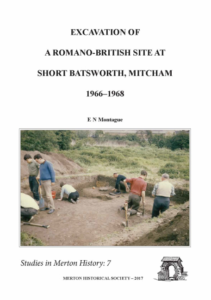 Studies in Merton History 7: by E N Montague
In this study Eric Montague, late Vice-President of MHS, records the history of the site, the dig, the finds and his conclusions. This 32-page A4 booklet has 18 illustrations (maps, plans and photographs) and sells at £2.50 (£2 to members) plus £1.20 postage.
Monty prepared much of this paper in the 1970s, but then laid it aside. We have published his account as a tribute to our friend, who died in 2016. As he emphasised, this report is more in the nature of a memoir than a formal archaeological report. As such, it gives some flavour of the amateur approach to archaeology permitted in the 1960s. Most volunteers had jobs, and were not available during the week, so excavation had to be done speedily at weekends.
In the first season at Short Batsworth a line of 10-foot trenches was dug, with two people working in each and several trenches being open simultaneously. The width of baulks between trenches varied widely. Evidently the '10-ft length' in Monty's text refers to the combined length of excavated trench plus un-dug baulk. This detail should not detract from the seriousness of the overall approach – the trenches were properly surveyed in, small finds and the rather amorphous stratigraphy were carefully recorded and, after digging was complete, experts were consulted. Though the references for the measured survey – the field, footpath, allotments and factory – have all disappeared, the excavators were sufficiently thorough as to record the ten-metre National Grid Reference for the dig, allowing its position to be located in future.
As far as the report itself is concerned, Eric Montague is the sole author, responsible for the text, the general layout, most of the photographs and plans, all sections and pottery drawings.
---
Review in MHS Bulletin 203 (September 2017)