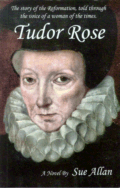 Our late President, Lionel Green, told us in the past about Rose Hickman, daughter of wealthy Tudor merchant William Lock, who wrote her memoirs in 1610, at the age of 85. Though based in London, the family held a number of properties in Merton, and Rose spent part of her childhood here to escape the plague. The main part of these memoirs were published in May 1982 in the Bulletin of the Institute of Historical Research, and Lionel summarised them in his series of articles on the Lock family in our own Bulletin between September 1996 and March 1998 (119, 121, 123, 123).
Now novelist Sue Allan, a member of our Society, who also spent her childhood in Merton, has based her latest novel on Rose's story, as recounted in her memoirs and other contemporary documents, albeit with the novelist's privilege of filling in the 'missing threads' from her own imagination. In Tudor Rose, Sue tells a fascinating story of a family secretly reading banned Protestant literature during the reign of Henry VIII, facing imprisonment for sheltering fellow-believers during Mary's persecutions, later joining other Protestants in exile on the Continent, and then, in Elizabeth's reign, struggling to maintain their Puritan beliefs against the demands of the established church.
Sue has also published a companion volume to her novel, Lady Rose Hickman – Her Life and Family, recounting the facts on which the novel is based, which is delightfully illustrated by portraits of Rose and her family, mostly at Gainsborough Old Hall in Lincolnshire, where Rose spend the last 17 years of her life.
Tudor Rose (ISBN 978 1 906070 09 0) costs £9.98 including postage, and Lady Rose Hickman (ISBN 978 1 906070 10 6) £11.49, both from Domtom Publishing, Edward House, Marchants Way, Burgess Hill, West Sussex, RH15 8QY.