3 Memories of Morden Between the Wars: a 'Chat Show' held in September 2012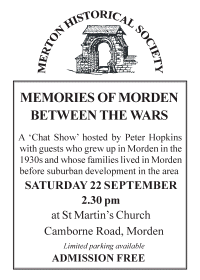 In September 2012 the Society organised a 'Chat Show' hosted by Peter Hopkins with guests who grew up in Morden in the 1930s and whose families lived in Morden before suburban development in the area.
Audio clips and photographs can be accessed from the links on the right. The audio clips have been rearranged by topic, and include some of the questions and comments from the audience at the end of the meeting.
Click here to listen to the Introduction