William Morris (1834-1896), designer, poet, craftsman, novelist, typographer, businessman, socialist political activist and lecturer, moved his workshops to Merton Abbey in 1881. He leased a textile printing works and nearly three hectares of land on both sides of the River Wandle. Using the site's old weatherboarded buildings, including a waterwheel, he set up dye vats, printing-tables, looms for carpets and tapestries, and a stained-glass workshop. The working conditions and pay were unusually good for the time. Morris, who lived at Hammersmith, travelled to Merton by train or on foot.
After his death Morris & Co continued at the site, but without strong leadership the company struggled in the face of changing tastes. It was wound up in 1940. The buildings did not survive the second World War. The site, which fronts Merton High Street, is now occupied by Sainsbury's and a block of flats.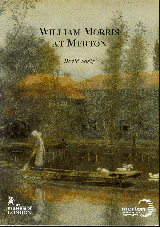 Merton Library Service have published William Morris at Merton in association with the Museum of London.
Click here to watch Dave Saxby delightful 20-minute video of photos of William Morris's Merton works