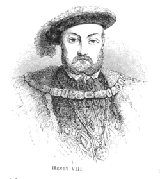 Henry VIII declared himself Head of the English Church, and closed down the monasteries. Although Westminster Abbey was used for Coronations, it was surrendered to the Crown in January 1540.
The manor of Morden remained Crown property until 30 June 1553, when Edward VI sold it to Edward Whitchurch, a London haberdasher, and Lionel Ducket, a mercer, together with property in Nottinghamshire and Staffordshire, for £699 18s 1d.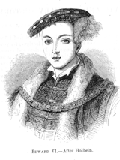 The manor was still leased to a tenant farmer, who occupied the manorial centre, so Whitchurch  occupied a newly built copyhold property called Growtes, while Ducket occupied a Ravensbury copyhold.
Edward VI died a week after the sale, to be succeeded by Mary, an ardent Roman Catholic.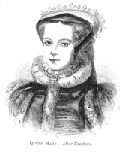 Whitchurch was a prominent Protestant, and had been involved in the printing of Miles Coverdale's 'Great Bible'. He was also the official printer of both Prayer Books of Edward VI. On Mary's accession he went into hiding, selling the Morden estate to Richard Garth on 7 March 1554. The bargain and sale, which includes a room by room inventory of furniture and fittings of Growtes, survives at Surrey History Centre, and we are grateful to them for allowing us to reproduce images and transcripts of these documents.

Merton Priory had been dissolved in 1538, and Mary gave Hobalds and other lands to the newly formed Priory of Shene. On Mary's death in 1558, Elizabeth I closed Shene Priory, the lands returning to the Crown.
It would seem that the vicar of Morden was also affected by Mary's accession. John Mantell had been appointed to the post by royal patronage in December 1552, but resigned after a few months, probably because he was married and refused to give up his wife as required by Mary. He continued to live in Morden, witnessing several wills, but by 1562 was serving as curate in Merton. It has long been thought that John Mantell (see Bulletins 198, 149) should be identified with an earlier curate of Merton, John Codyngton, a canon at Merton priory, but recently discovered evidence has disproved this suggestion.
The Manorial Documents Project is providing a great deal of information on Tudor Morden
All the known extant documents relating to the manor of Morden have now been translated, and are available on this website, together with images of most of these documents.
 Articles
D Haunton, 'Growtes: The home of a rich man in 1554'