Mitcham Histories  1
by Eric Montague
The unique character of Mitcham's Lower Green, the eastern half of which is today known as the Cricket Green, was recognised by its declaration as a Conservation Area by the London Borough of Merton in 1969. The Green was formerly part of the expanse of largely uncultivated heath and woodland – the common 'waste' – which formed a substantial part of the parish throughout the Middle Ages.
By the time of the Norman Conquest, still forming part of an unbroken swathe of rough grazing land extending from today's Church Road eastwards as far as Commonside East, the Lower Green served to separate the two Saxon 'vills' of 'Witford' and 'Michelham' recorded in the Domesday Survey.
Both sanctioned and unauthorised enclosures of land on the margins of the Green have diminished its extent, but a little over eight acres (3.25 ha) survive today as public recreational space. It is conceivable that here, in the Middle Ages, stood the archery butts, close by Mitcham's earliest recorded inn, the White Hart. Skilled bowmen may no longer be needed for the defence of England, but since the late 17th century the Lower Green has been the cradle of another sport whose stalwarts were able during the great days of village cricket to throw down a challenge to all comers, including visiting Australians.
The gradual development of the land peripheral to the Green has left an interesting history of building and rebuilding, as well as a legacy of architectural styles which, although modified in their translation to a village setting, nevertheless reflect trends and fashions throughout the Home Counties.
---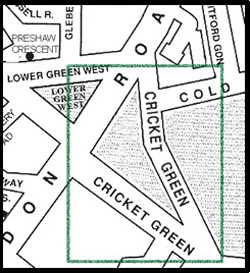 CONTENTS
THE CRICKET GREEN: The Heritage of Cricket; The Village Playground
THE MANOR OF VAUXHALL
THE BURN BULLOCK (FORMERLY THE KING'S HEAD)
THE TATE FAMILY
THE TATE ALMSHOUSES
MITCHAM'S FIRST PRIMARY SCHOOL
THE METHODIST CHURCH
ELM LODGE
MITCHAM COURT
THE WHITE HOUSE (FORMERLY RAMORNIE) No 7 CRICKET GREEN
OTHER BUILDINGS AROUND THE GREEN: The Eastern Side of the Green; Sir Isaac Wilson and The Cumberland Hospital; Chestnut Cottage; The Western Side of the Green
APPENDIX: POLICING OLD MITCHAM