Mitcham Histories 4
by Eric Montague
Although seemingly never defined precisely, Lower Mitcham can be considered as occupying the area north of the former Wimbledon to Croydon railway line (now the Tramlink) and between Baron Walk in the west and Jeppo's Lane to the east.
It formed part of the Domesday 'vill' of Whitford, which lay between the Lower Green and the river Wandle. However, little definite is known of the history of this locality before the mid-16th century when two large houses, each the country seat of a prosperous London merchant, emerge in the records. The early Stuart period saw the division of one of these estates and the erection of two further substantial houses, but the area was to retain its essentially rural character until the closing years of the 19th century.
The dramatic transformation of Mitcham from Surrey village to London suburb gathered momentum in the late Victorian period, and the development of part of the grounds of Mitcham Hall as a select residential estate before the turn of the century heralded far more extensive changes to come.
---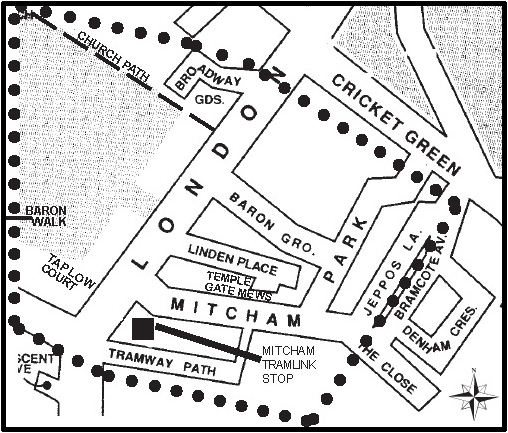 CONTENTS
LOWER MITCHAM, OR WHITFORD
THE WILFORD FAMILY OF MITCHAM
SIR JULIUS CAESAR'S "LITTLE PROPERTY AT MITCHAM"
MITCHAM HALL
MANOR HOUSE
BARON HOUSE
MITCHAM STATION
AND FINALLY …
The Crown Inn
Baron Place
The Congregational Church
The Broadway