The Life of Guy of Merton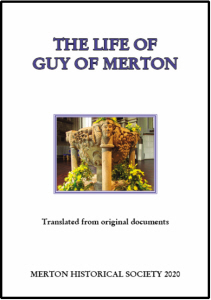 Following the publication in 2019 of the first full translation of four medieval Latin documents which deal with the earliest days of Merton Priory and with its founder, Gilbert, sheriff of Surrey, Merton Historical Society is now pleased to publish the first parallel Latin/English text of The Life of Guy of Merton, one of the earliest canons of Merton, who died in 1124, just ten years after Merton was founded.
Guy, an Italian, came to Merton after a career as a 'director of schools'. He seems to have had enough of teaching, and to have sought solace in the cloister but his obvious spiritual and intellectual gifts soon led to his being 'headhunted' as founding prior of first Taunton and then Bodmin.
We are indeed fortunate to have these accounts of the lives of such influential men as sheriff Gilbert and Master Guy, revealing as they do the personal struggles and the challenges of both secular and monastic life in the early 12th century.
This account was written by Rainald, a contemporary of Guy at Merton. It survives in a fifteenth-century copy found in the British Library. We are grateful to the British Library for permitting us to publish this work, and to include within it two images from the document
The Latin text was edited by Katie Hawks, and then compared with that published in 1969 by Professor Marvin L Colker. Katie also prepared a translation, as did our Chairman, Keith Penny, and they then amicably agreed the final version as published here. Katie has also contributed an introductory essay.
Click here to preview a watermarked copy with images removed for copyright reasons
See also our related publication A Priory Founded: Sheriff Gilbert at Merton: