The Records of Merton Priory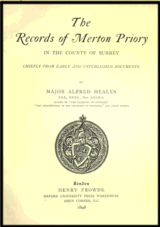 In his 1898 study of The Records of Merton Priory Major Alfred Heales collected, translated and arranged in chronological order every record that he could trace relating to the great Augustinian priory at Merton, Surrey. Most come from the priory's cartulary, now at the British Library (BL Cotton MS Cleopatra C. vii), or from a collection in the Bodleian Library (Laud MSS 723), but many other sources have been used. He has provided transcriptions of many of these documents in an appendix.
Unfortunately illness prevented him from completing the book, which was published by friends during his final illness, with errors of translation and interpretation unrevised.1 C A F Meekings warns of Heales' book, "No document in it should be cited without recourse to the original".2 Although some might feel that it is better not to publish at all rather than produce something unreliable, this is a valuable archive which might otherwise have remained in obscurity.2
Two copies of the book have been scanned for Internet Archive, and can be consulted online or downloaded in pdf format. Text versions are also available. All these copies are searchable, though it must be remembered that the scanning process is subject to errors.
The links are: http://www.archive.org/details/recordsofmertonp00heal and http://www.archive.org/details/recordsofmertonp00healuoft
Paperback reprints are also available for purchase. Click here to use a Google search for the title: http://www.google.co.uk/products?q=The+Records+of+Merton+Priory&aq=f
The index in the book is incomplete, and Merton Historical Society hopes to provide a fuller index to personal and place names in the near future. Ultimately it is hoped to produce a commentary on the text, correcting those errors that have been identified